Regina Stevens-Truss, Ph.D.
Outreach Programs
As a minority woman and a scientist I have made a personal committment to community service. (Please visit my photo gallery to see more faces of these outreach programs)

Three of the four courses I teach have Service-Learning components to them. Service-Learning is a teaching pedagogy that involves learning of course material in an independent hands-on way with a significant and meaningful community service component. This method stresses academic learning, personal growth, and civic responsibility.
Students in Chemistry of Antibiotics (Chem 107) volunteer to go into area public elementary schools and discuss with 6th graders issues of infection and health. The service-learning option is chosen in place of completing a research paper. Because this class does not have a lab, students that elect to do service-learning are expected to design and implement a series of experiments that teaches the elementary children about the world of microorganisms and their role in our environment. Experiments that have been done include: "Hunting for Microbes", "How good is your mouthwash?", "Bugs, Bugs Everywhere!", and "Does heating kill molds?".

(additional photos can be found in the Photo Gallery)

Students in Introductory Chemistry II (Spring quarter Chem 120) are involved in helping Northglade Elementary School with their Science Expo. For several weeks of the quarter the Kalamazoo College students help Northglade students with projects. The intro chem students are charged to design, with the elementary teacher and students, an age appropriate experiment to conduct using mostly grocery store purchased items. Scientific topics must be in line with course material and students have conducted experiments such as "the effect of temperature on the degassing of soda pop", "fruits, vegetable or flowers, which make better pH indicators?", and "which fruit is a better battery?".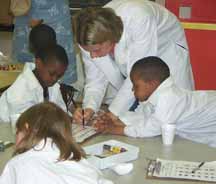 (additional photos can be found in the Photo Gallery)



Students in Introductory Biochemistry (Winter quarter Chem 352) can choose an inquiry based lab where all of the experiments are designed by them and are based on understanding biomolecules as it relates to food and energy. This information is then used to teach nutrition to the 8th graders at Hillside Middle School. These 1 hour classes (3 total in the quarter) are a combination of lectures and hands-on experiments.


(additional photos can be found in the Photo Gallery)



Other Community Outreach programs


The Art and Science of Medicine is a program in existence at Kalamazoo College since 2001. This Howard Hughes Medical Institute (HHMI) funded 2-week residential workshop is intended to give high-school students interested in careers in medicine, information about said careers. During the workshop, students visit several medical facilities and meet medical professionals. They are exposed to several hands-on labs that reinforce the principles of mental and environmental health, and are presented with the future of medicine as it relates to genes and gene therapy.


(additional photos can be found in the Photo Gallery)



As a member of the board of the Kalamazoo Area American Chemical Society's Women Chemists Commission I am involved in the planning and the conducting of the Girls Scout Chemistry Badge program. This bi-annual, 1-day workshop-like program helps local Girl Scouts earn a chemistry merit badge. Over 100 girls are serviced in this program at each offering.

Sisters in Science is a new student group established on campus of which I serve as faculty advisor. The groups general motto is "Women mentoring women at all ages". This group, started by the women faculty in the Natural Science Division at the College, started as a means of having an internal support and mentoring group for the female science students on campus. The group's mentoring goal has now expanded to local 6th grade girls. These young girls, who have been selected by their teachers, are paired with a Kalamazoo College female science major. These little-sister/big-sister pairs then spend time discussion science, take field trips, work on science projects, and serve as a sounding board for each other. The idea is that if the 6th grade girls see young women successfully being scientists then they may be retained in the field of science.


(additional photos can be found in the Photo Gallery)

[top].